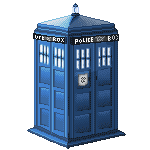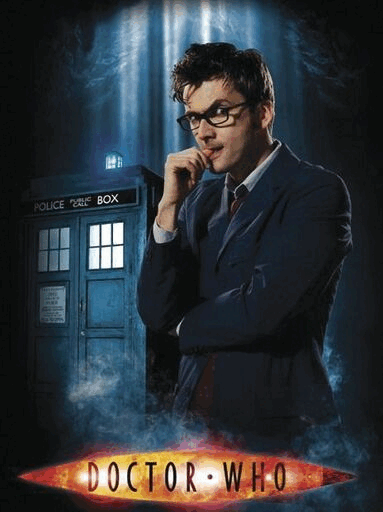 Doctor Who
Honestly, this could be a whole other website on its own.

Doctor Who has been my favorite show since I was 7 and that was back in 2010.
I've rewatched the episodes so many times throughout the years that I've got them all memorised.
I've even converted my entire family into Doctor Who fans. It was the first thing I was ever a die-hard fan of.

"You know the sound the TARDIS makes? That wheezing, groaning? That sound brings hope wherever it goes. To anyone who hears it, Doctor."
About
Doctor Who is a British science fiction show. It started running in 1963 up until 1989. That whole period is known as Classic Who. It was rebooted in 2005 and is still going to this day. Awesome.
That's what I'll be talking about here, the reboot series, because that's what I grew up watching.
It's about the adventures of a Time Lord called the Doctor, an alien from the planet Gallifrey. He looks just like a regular human (except he has 2 hearts and can regenerate).
Oh, and he's centuries old.
He explores the universe in a time-travelling spaceship called the TARDIS. (Stands for: Time and Relative Dimension in Space) The TARDIS looks like a small blue police box on the outside. But it's bigger on the inside...I mean, HUGE.
The Doctor and his companions are always saving the Universe from a load of different aliens who either want to change the course of history or exterminate entire solar systems, and whatever else evil aliens do. I mean, come on, I just love watching the Doctor travel to Victorian England to enjoy Christmas and then he ends up running into a bunch of Cybermen trying to DELETE people.
Fun facts
It's a pretty big part of British pop-culture.


The TARDIS looks like a police box, because it uses a 'chameleon circuit' to blend in with it's surroundings as a disguise. One day it broke so now it looks like that permanently.


The show has been running for so long because the transition from one actor to another is written into the plot with the concept of regeneration into a new incarnation, a plot device in which a Time Lord "transforms" into a new body when the current one is close to death.


There's actually a real-life asteroid named after the TARDIS [Asteroid 3325 TARDIS].


Doctor Who words have MADE IT INTO THE DICTIONARY!!! In 2017, sonic screwdriver was added to the Oxford English Dictionary, which defined it as "a (hand-held) electronic device which uses sound waves to perform various mechanical and technical functions. Originally and chiefly in (or in reference to) the British television series Doctor Who." The words TARDIS, Dalek, and Cyberman are in there too.


The time-vortex in the openings of S1-S4 are colour-coded. A blue time-vortex means the episode takes place in the past. A red time-vortex means the epsiode takes place in the future. (If it were up to me, the colours would be switched.)




Gallery

Gallifrey




TARDIS in time vortex




The Doctor's regeneration





My Favourites

Doctor: 11th.

Companions: Donna, Amy, Clara

Other characters: Captain Jack Harkness, Strax, Vincent van Gogh (LOL), Wilfred, Craig

Aliens: Cybermen, Weeping Angels, Vashta Nerada





Characters

10th Doctor

11th Doctor

12th Doctor





There are loads of incarnations of the Doctor but these three are the best. My favourite is the Eleventh Doctor because he was my first Doctor. I like how he's hilarious and whimsical. I love his style too. Bow ties are cool.





Rose

Martha

Donna






Amy

Rory

Clara





The Doctor always travels with companions, he doesn't like being alone (TAKE ME BRO). My favourites are Donna, Amy and Clara.
Donna's really funny and I like her sarcasm. I love her dynamic with the Doctor and how they were just two best mates exploring time and space.